Monday evening, we went hiking, which was just lovely. New life objective: hike MORE!! I didn't have the camera with me, so imagine this picture is from Monday, and not a year ago on our West Virginia trip.
Otherwise, I've been up to:
1) Taking the Wardrobe Refashion 6-month pledge.
The Wardrobe Refashion Pledge
I Katie,

Pledge that I shall abstain from the purchase of "new" manufactured items of clothing, for the period of 6 months.

I Pledge that I shall refashion, renovate, recylcle pre-loved items for myself for the term of my contract.

I Pledge that I shall create and craft items of clothing for myself with my own hands in fabric, yarn or other medium for the term of my contract.

I Pledge that I will share the love and post a photo of my refashioned, renovoated, recylcled, crafted or created item of clothing on the Wardrobe Refashion blog, so that others may share the joy that thy thriftyness brings!
Keeping the pledge should be fairly easy for me since I already buy 99% of my clothes from the Salvation Army. Take that, clothing industry!!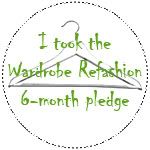 http://wardroberefashion.blogspot.com
2) Taking Sylvia to the monthly "gas savers" agility class at
http://dogwoodagility.com
It was our first class after moving up from novice--advanced is kicking our butt (mostly my butt). My new mantra: Challenge is good. Challenge forces me to improve. There's no crying in agility!!
Props to Sylvia for not being fazed by the crowd of 4-H'ers and their parents who trooped through the agility building to watch.
3) Mowing the backyard. It finally stopped raining. Shhh, don't jinx us.
4) Working on various crafty things, including Backtack III. . . it's getting there. . . :)
Oh, yeah, and more on this project later this week (hopefully)